The New Harmony Music Festival Summer School brings teachers in traditional music, jazz improvisation, and classical music together with students who want to explore different styles of music while sharpening their principle skills.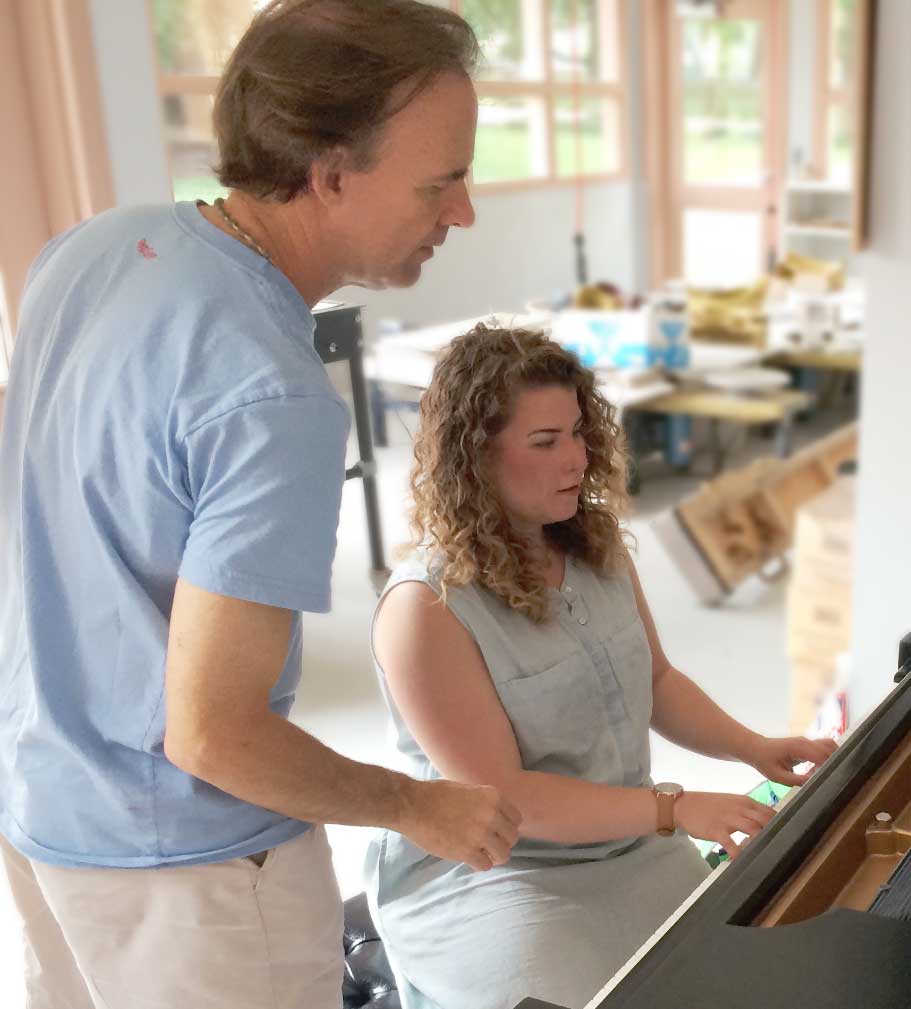 During the 5 days of classes students can expect to study with their principal teachers during the morning and early afternoon class periods. They may also want to attend a "gypsy class" where students can join in or observe classes in other styles, such as Irish music, Hindustani Music, Improvisation and more.
We encourage this gypsy approach if it fits within the goals of the individual student. It is essentially our small class size that makes this a fun and interesting experience for students wishing to broaden their musical horizons.
Following the afternoon classes, students and teachers can gather in the MacLeod Barn Abbey common room for group music making, dancing and movement, mini recitals and discussions that we call "Group Therapy". It's a casual class where people can enjoy a "state of play" to free the mind and heart, and celebrate musical fellowship.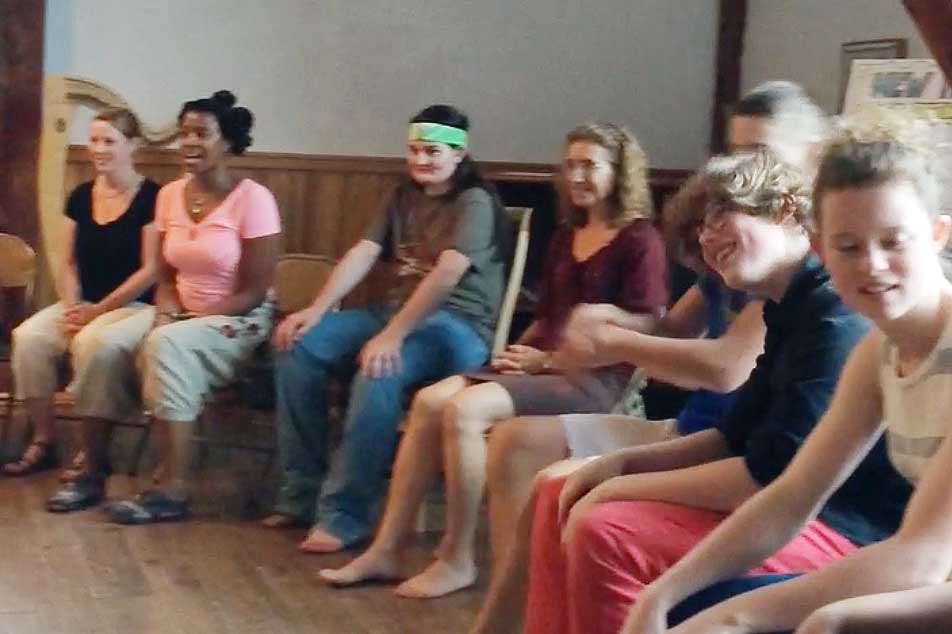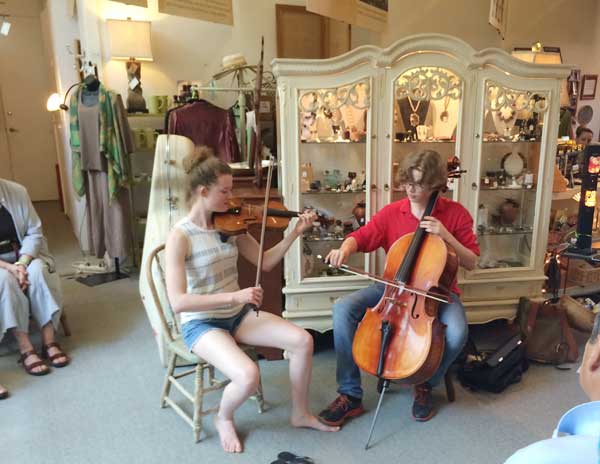 Students have the opportunity to perform as a part of several casual concerts and jam sessions around town during the festival. There is much to do during the week including an art opening, a film showing, free pop-up concerts, and historical tours of the town through the University of Southern Indiana/Historic New Harmony organization.
The heart of the New Harmony Music Festival Summer Program is the MacLeod Barn Abbey, where teachers, students, and family members gather for meals, group workshops, meetings and just hanging out. During the school, a limited number of rooms are available for students enrolled in the week-long program. Additional accommodations are also available in New Harmony and nearby, for those who choose to stay "off campus". Lodging options are available at VisitPoseyCounty.com.
Many of the teaching venues are historical guest houses situated among the historic homes that stretch between the Macleod Barn Abby and the Atheneum. Walking between classes and exploring the town is part of the festival experience. Some students drive between classes, so its always easy to catch a ride for yourself or an instrument. The guest houses are used exclusively by the festival during the week, providing you with an intimate teaching and playing experience.
Our 2019 Music School Faculty
Christopher Layer

Flutes and Pipes

Clem Penrose

Songwriting/storytelling/crafting

Festival Music School Student Schedule

Each day at the New Harmony Music Festival School is packed with activities from morning until night. Students participate in classes, share meals, attend concerts, jam sessions and dances, and may even perform at various locations around the local community with other students or faculty members. This schedule provides a rough guide to what you can expect each day to be like.

(Due to the Covid-19 epidemic, our 2021 school details and class schedules are subject to change.)

The Owen Community House

Various Locations

Jam Sessions, Concerts, Activities

Registration and Tuition (example only)

Student Tuition/Room & Board: $900 USD Includes: 

Meals: from Sunday eve 7/7, thru Friday lunch 7/12. We are happy to work with you to meet your dietary needs.
Lodging in a modern, double-occupancy room. (If available, and you would like a single room, there is an additional charge of $200 for single occupancy, but availability is very limited so please inquire ASAP!)
Single admission to all NHMF&S concerts and non-benefit events.
If you are not paying your full tuition with your registration today, a deposit of $150 USD is required to secure your reservation.
The balance of your tuition is due by mid-June. If your deposit is not received by then, you MUST contact the festival office at: 646-456-7762 to make further arrangements.
Upon receipt of your deposit or tuition payment, you will receive your student registration form via email, or standard mail if you like. Please complete and return to us with your dietary restrictions/needs, teacher and class interests, etc.
If you wish to register by phone or standard mail, please call the Project Director, Christopher Layer at 646-456-7762 for details.
Students under the age of 16 are welcomed each year and are admitted on a case-by-case basis. 16 and under must be accompanied by a parent or guardian unless other arrangements/waivers are made, parents must contact Chris at the office directly before paying your deposit.
***Camp tuition for "boarding" chaperones is the same whether you choose to participate in classes or not.***
Some family rooms are available in the Macleod Barn Abbey, our home for the week.
Single-day student tuition rates with meals and lodging are available! Please call Christopher in the office for details and lodging availability.

Scholarships

This year we have scholarships available for three different age groups. Youth (12-18), Collegiate (18+ enrolled in a university for a degree track), and Adult (19+). All participants interested in a scholarship should fill out the following application via google forms. Please note that your contact information will only be used for NHMF&S purposes. Scholarships are due by May 18th.

Scholarship Application https://forms.gle/rMKcr8Arw3u2xQmb9

Work study

Work study opportunities are available for festival local participants. In order to qualify for work study, participants are expected to attend  at least ⅔ of all classes, and attend all concerts. Duties will involve 10 hours of work throughout the week.

Interest in Teaching Assistantships

Please inquire about 2019 teaching assistantships. Are you already a professional in the field? Teaching assistantships for skilled individuals available.

ADDITIONAL OPTIONS

Student or Chaperone Tuition Deposit $200.00
Per-Day Student Tuition (non-rooming) $150.00
Non-Rooming Student Tuition (incl. lunch) $600.00
Student or Chaperone Tuition (boarding) $900.00
Student or Chaperone Tuition-Single Room (limited avail.) $1,100.00
Dulcimer Clinic $325

Single Day Tuition: $150 per day.

Includes: all daytime classes and evening events for the day you are enrolled. Lunch and dinner (MUST be reserved in advance). We reserve housing at the Barn Abbey for full-week students, but you may be able to stay the night of your classes on a space-available basis.

We strongly encourage students to enroll for the entire week.